President Barack Obama har hanterat de politiska krispaketen så illa att diskussionen om han är en misslyckad president redan har startat. Börserna rasade igår efter ännu ett klumpigt agerande från Obama-administrationen. Finansminister Tim Geithner sa att han inte hade detaljerna klara för hur man skulle få ordning på finanssystemet.
I Financial Times frågar Martin Wolf i Why Obama's new Tarp will fail to rescue the banks:
Has Barack Obama's presidency already failed?
Och bilden som illustrerar artikeln säger en hel del om hur man kan se på Obamas krispaket: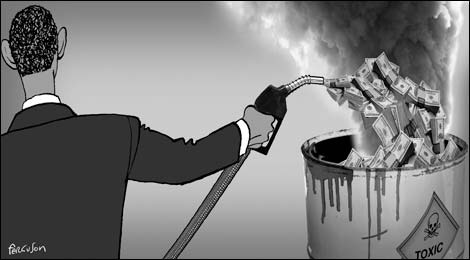 (Andra intressanta bloggar om USA, pres.valet, Vita huset, republikanerna, demokraterna,Obama, politik, finanskris, ekonomi, bolånekris)