Tredje debatten mellan republikanska presidentkandidater ägde rum i natt. Många menar att Florida-senatorn Marco Rubio var starkast.
Om de politiska "outsider"-kandidaterna som inte haft politiska uppdrag förlorar sin ledning i opinionen, ligger Marco Rubio bra till bland traditionella politiker.
Han finns inte på ytterkanten och hans personliga bakgrund som barn till migranter gör honom attraktiv för den politiska branschen (politiska konsulter, etablissemang och medier). Frågan är om han kan få med sig de många arga republikanska väljare som kräver en radikal förändring för att få USA på rätt köl och som därför nu stöder företagare och läkare framför proffspolitiker.
I opinionsmätningarna, här sammanvägda av RealClearPolitics, knappar han stadigt in på huvudmotståndaren Hillary Clinton, om han ställs mot henne i valet om Vita huset (Rubio=röd, Clinton=blå):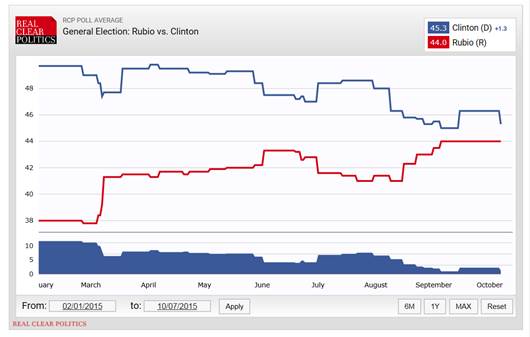 Se mer: Yahoo News i Best moments of the GOP debate, CNN i Rubio's night, Yahoo News i Cruz and Rubio score points by bashing media during debate, AP i Rubio-Bush rumble, Trump largely quiet, Politico i Trump? Carson? Rubio steals the debate show och Bush walks into Rubio's trap, Wasington Post i A breakout moment for Cruz and Rubio.