I natt höll guvernör Chris Christie republikanska konventets nyckeltal (vid sidan om kommande tal av kandidaterna till president och vicepresident). Det var ett tal som gjorde skillnaderna tydliga mellan republikaner och demokrater. Se och läs talet här: Mitt Romney Will Tell Us The Hard Truths We Need To Hear.
Christie, 50, befäste sin ställning som kommande ledare på nationell nivå. De senaste två åren har han behållit sin popularitet i den annars normalt demokratiska delstaten New Jersey, trots att han sparat och stramat åt delstatens ekonomi. Han har gjort det genom att vara rak och tala sanning om villkoren.
Nu lyfter republikanerna hans strategi till nationell nivå. Republikaner talar sanning till amerikanska folket, vidtar tuffa åtgärder just därför att det är vad som krävs för att få Amerika på fötter igen. Retoriskt sammanfattade han det så här:
We've never been victims of destiny, we've made our own destiny.
Christie är övertygad om att väljarna vill höra sanningen och att de bättre gillar de som är raka än de som försöker dölja hur allvarlig situationen är (riktat mot Obama-administrationen).
Jag älskar hans tonläge – erkänn svårigheterna men tvivla inte på att vi kan lösa dem.
Han tog upp flera exempel, exempelvis utbildningen:
We believe that the majority of teachers in America know our system must be reformed to put students first so that America can compete.
Teachers don't teach to become rich or famous. They teach because they love children.
We believe that we should honor and reward the good ones while doing what's best for our nation's future – demanding accountability, higher standards and the best teacher in every classroom.
They believe the educational establishment will always put themselves ahead of children. That self-interest trumps common sense.
They believe in pitting unions against teachers, educators against parents, and lobbyists against children.
They believe in teacher's unions.
We believe in teachers.
Amerikanerna har ett tydligt val att göra den 6 november.
Sedan det i våras stod klart att Romney blir Obamas motståndare har Romney sakta ökat i opinionsmätningarna (från 43 till 46 procent) medan Obama backat (från 49 till 47). Här är snittet av alla mätningarna mellan mars och augusti 2012 (Obama i blått, Romney i rött):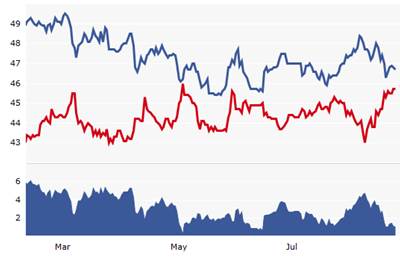 (Källa: RealClearPolitics)
 (Andra intressanta bloggar om USA, Vita huset, republikanerna, Romney, Obama, politik)