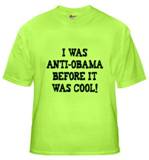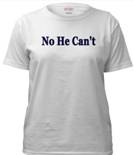 Ett sätt att mäta temperaturen i den amerikanska opinionen är att kolla vilken sorts politiska prylar som säljer. Washington Times har undersökt saken, Trinkets that stick it to Obama start to sell: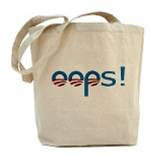 I avdelningen för politiska attiraljer har "Yes, we can" blivit "No, he can't."
Försäljningen av anti-Obama prylar — från T-shirts till knappar och klistermärken — har ökat sedan presidentens ekonomiska politik och sjukvårdsreformer polariserat supporters och motståndare.
Medan "Mama for Obama" var en populär slogan under förra årets presidentvalrörelse, har andra budskap tagit över sedan besvikelsen vuxit: "To the Mama for Obama — thanks for the tax hike." Och titeln på Barack Obamas bok, "Audacity of Hope", har blivit "Audacity of Hype".
— Det började verkligen att öka för en månad sedan, säger Amy Maniatis vid den internetbaserade marknadsföringsbyrån Cafepress.com.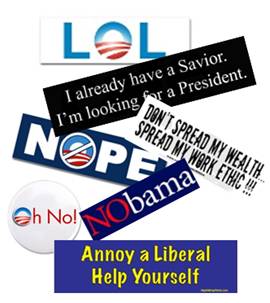 Det är bra om president Obama möter opposition på samma sätt som andra politiker. Och så länge det sker med glimten i ögat så är det bara kul med korta och slagfärdiga budskap. Eller vad sägs om dessa, hämtade från den ovan nämnda reklambyrån.
Jag gillar särskilt Oops!-väskan med Obamas kampanjlogga. "Oh, No!"-knappen och LOL-dekalen ("laugh out loud", skrattar högt) är inte heller dumma.
(Andra intressanta bloggar om samhälle, humor, satir, politik, USA, Barack Obama)