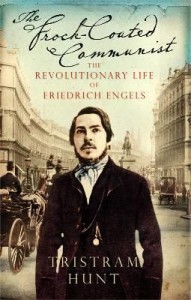 En ny biografi över den bortglömde, men för Karl Marx försörjning helt avgörande, Friedrich Engels har publicerats, "The Frock-Coated Communist: The Revolutionary Life of Friedrich Engels", av den unge brittiske historikern och dokumentärfilmaren Tristram Hunt.
The Economist skriver i en recension, A very special business angel:
Engels, som var lång och såg bra ut, hade inte bara smak för politiska idéer utan också för det goda livet — vin, kvinnor och rävjakt på traditionellt brittisk överklassvis. Han tycks inte ha plågats av den ironi det låg i att allt detta betalades av det hårt arbetande proletariatet.
Friedrich Engels far drev en bomullsindustri, och med sin andel av familjeföretaget försörjde Friedrich inte bara Karl Marx och hela dennes familj, han tog också på sig faderskap för Marx' barn med en hushållerska.
När Engels dog, föredrog han dock — till skillnad från Karl Marx som begravdes i ståtliga Highgate-kyrkogården — att hans aska spreds över havet utanför Englands kust.
Marx levde alltså gott på den sorts kapital han så föraktade i "Das Kapital". Och inte nog med att Marx lät sig försörjas, han och hans aristokratiska fru krävde ständigt mer pengar för att kunna leva ett komfortabelt liv som bourgeoisie.
Vilken trovärdighet har människor som kräver att andra ska göra uppoffringar, men vägrar göra dem själva? De kommunister och socialister som inte skänker bort sin inkomst är inte att ta på allvar. De vill att andra ska vara generösa, men vägrar att vara det själva. De unnar sig själva allt, men andra inget. Vad är detta, om inte ett sorts  sol-och-vårande?
(Andra intressanta bloggar om politik, skatter, ekonomi, företagande, entreprenörskap, kapitalism, kommunism, socialism, ideologi, böcker, litteratur, Das Kapital, Friedrich Engels, Karl Marx)