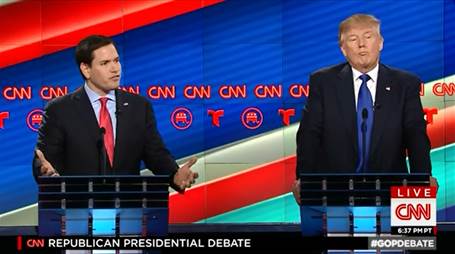 Floridasenatorn Marco Rubio har uppenbart inte gillat spekulationerna om att han kan bli Donald Trumps vicepresidentkandidat. Rubio gick till attack på Trump från första sekund av nattens debatt mellan republikanska kandidater. Washington Post-kolumnisten Charles Krauthammer menar att detta var den hårdaste debatten i USA på 40 år.
Rubio attackerade Trump på en mängd områden. Han frågade "Ska du starta handelskrig mot dina egna kinatillverkade slipsar?"
Sedan följde annan attack, "Om han bygger en mur mot Mexiko på samma sätt som han byggt sina skyskrapor, kommer han att använda illegala invandrare som arbetskraft för att göra det."
Trump replikerade: "Vilket gulligt soundbite."
Många är förvånade över hur skicklig Marco Rubio plötsligt blev, efter tio debatter där han varit svag och slätstruken. Men Rubio kan ha kommit igång försent för att ha en chans att vinna över Trump. Jag tycker det är synd att fighten inte började tidigare. Hade velat se en Rubio-Trump debatt i början av primärvalet.
Dessutom attackerade även alla de andra debattörerna Donald Trump under debatten, vilket gör att många tittare kan uppfatta det som att han blev orättvist behandlad.
Se mer: Yahoo News i Rubio goes after Trump in fiery GOP debate, AP i Debate brawl: Rubio and Cruz go hard after Trump, Bloomberg i Rubio Declares War on Trump at the Eleventh Hour, CNN i Donald Trump, Marco Rubio spar over Healthcare.