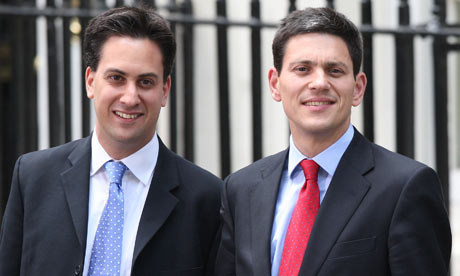 Med största sannolikhet kommer premiärminister Gordon Brown att tvingas lämna 10 Downing Street för konservative partiledaren David Cameron som just nu förhandlar med Liberaldemokraterna om stöd för en ny regering i Storbritannien.
Gordon Brown kommer då att få lämna partiledarskapet i Labour. Vem ska komma efter honom?
Det kan bli en partiledarstrid mellan två bröder: David Miliband (född 1965) som är utrikesminister och Ed Miliband (född 1969) som är miljö- och energiminister i Browns avgående regering.
De har länge setts som politiska underbarn och kommer ur arbetarrörelsens aristokrati. Fadern var en känd sociolog på vänsterkanten, och bröderna tillhör dem med bäst akademisk utbildning i Labours parlamentsgrupp. Deras aktier har stigit ytterligare sedan de visat sig vara driftiga ministrar.
En opinionsmätning pekar ut David Miliband som den mest populäre efterträdaren till Brown, skriver Daily Telegraph i David Miliband emerging as frontrunner to replace Gordon Brown.
Se mer: Independent i The Brothers: David & Ed Miliband, Guardian i The Miliband brothers: Labour's new rivals?, Times i Profile: David and Ed Miliband.
(Andra intressanta bloggar om politik, Storbritannien, Labour, Gordon Brown, David Miliband, Ed Miliband, David Cameron, Tory, Konservativa, Liberaldemokraterna, Nick Clegg).